My husband and I are quite the burger fiends. When we went to London in the beginning of August, we had already planned where to eat weeks in advanced
!
We wanted to know what all the buzz around these recently opened American joints was all about. This was not a skinny weekend, I'll tell you that much!
We first hit up
Shake Shack.
This is a New York City native burger place, most famous for their crinkle fries doused in cheese sauce. It opened in London's Covent Garden in July 2013 and a month later it was still going strong! We went on a Saturday and the line was massive! Luckily they have pretty fast service, so we only had to wait 10-15 minutes.
They give you this "shaker" after you order, so you can sit down and wait. When your order is ready, it lights up and starts shaking, I thought that was a nice touch! Again, not a lot of waiting at all, which was good!
Here it is! We both had the Smoke Shack (cheeseburger topped with bacon, chopped cherry peppers and Shake Sauce). As you can see, this is not the biggest burger in the world. It was actually refreshing to see an "appropriate" sized burger for once! The size wasn't the problem here, the taste was. The meat was bland as can be and the peppers didn't really pack any punch at all. It was an ok burger, nothing to get excited about, if I'm honest! However... The fries! Oh my God, the fries! They are THE crunchiest fries on the planet and the cheese sauce is heavenly! As good as they are, they unfortunately didn't make up for the burger. For desert I had one of their Concretes, the Unioin Shack, chocolateliest thing ever! Very good as well.
We left slightly disappointed with Shake Shack. We were expecting a higher quality burger, which we didn't get. Also, they are getting rid of the crinkle fries (whyyyy??) in favour of fresh cut fries. We'll se how that goes!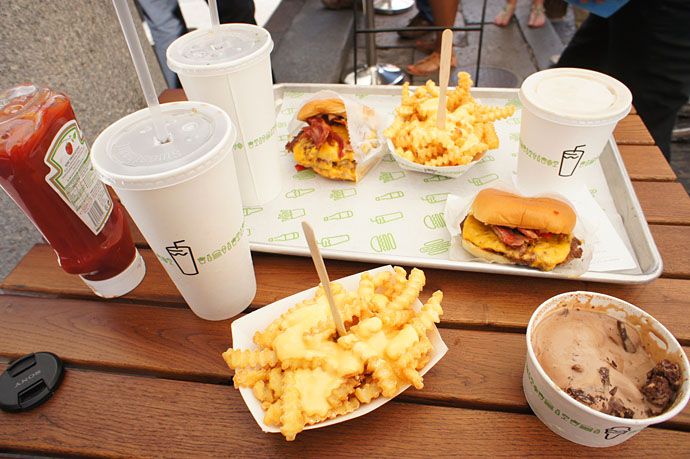 Five Guys
is allegedly President Obama's favourite burger joint! Their freshly cut french fries are fried in pure peanut oil, one of their trade marks! They also opened in London in July 2013, just 300m away from Shake Shack, in Covent Garden. And just like Shake Shack, there was still a line! I think we accidentally skipped the line by going in through the other entrance (oops, sorry everyone!). haha
They offer many options of topping for your burger, which I thought was great as I love being able to customize mine. Their "regular" is actually a double burger, so don't be put off when you see "mini" on their menu, that is just a regular one! Firstly, their fries were unbelievable! No cheese sauce here, just plain french fries with some salt. They kept the skin on the potatoes, which I think makes all the difference! Their portion size also wins over Shake Shack's. Do you see the brown bag at the back? The bottom of that bag was fiull of french fries! Amazing, glorious french fries! I had a cheeseburger topped with bacon and caramelized onions and each bite was better than the last. This is the best burger I've ever had, I've never tried anything as delicious and packed with flavour as this burger!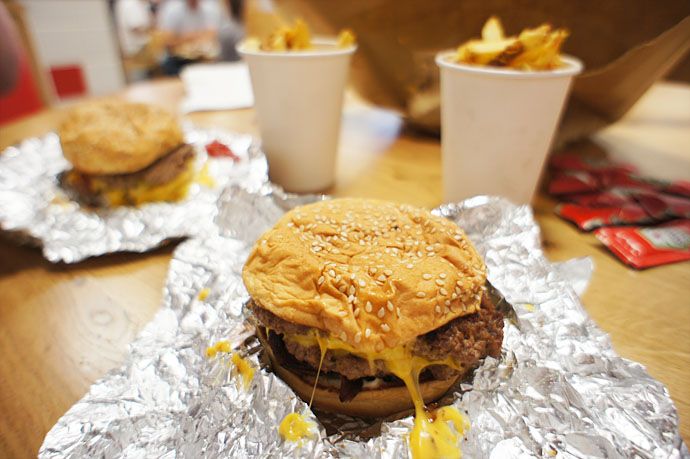 They also have this space age technology drinks machine, which let's you mix your drinks to get any flavour you want! Vanilla Sprite? Got it! Cherry Fanta? No problem! You can spot my husband getting our drinks in the picture, the long haired guy! hehe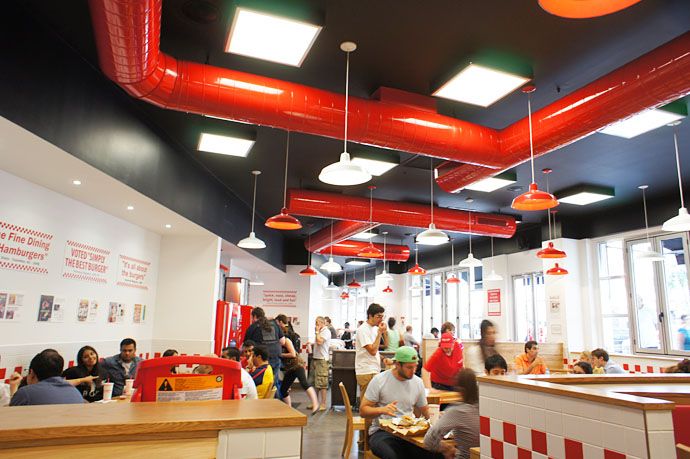 I guess the winner is pretty obvious. If you only have time to visit one of these, go to Five Guys and thank me later!