Remember when you only had 3 brushes in your collection? One for blusher, one for powder and one for eyeshadow. Those days weren't that long ago for me! If only I had known how much easier life could be with just the right brush! Today I though I'd share with you my favourite face brushes for different products and here they are: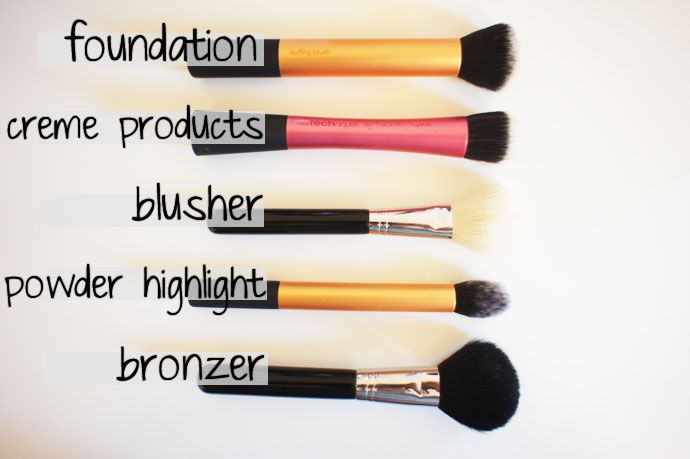 FOUNDATION: Real Techniques Buffing brush
If you have trouble getting a nice, even finish with your foundation, this is the brush to try. I always found flat foundation brushes difficult to use, as they tend to give that streaky look and make it harder to blend out the product. This brush will sort it out, it is dense and the large surface area make it a brilliant tool to apply any base with.
CREME PRODUCTS: Real Techniques Stippling brush
If you tend to just use your hands for creme products, but always feel like the finish is a bit harsh and uneven, this is the brush to try! It will blend out the product evenly, without making it look too heavy. It is specially useful for creme highlighting, as it distributes the product a lot better than just your finger does, making it look more natural!
BLUSHER: Sigma F40
This is like Sigma's version of the MAC 168 brush. The reason why I like it so much is because I tend to have a heavy hand when applying blusher. This brush makes it fool proof, as it's not too dense and the size is perfect for applying the product to the apples of the cheeks!
POWDER HIGHLIGHT: Real Techniques Contour brush
Again, the advantage of this brush is it's size. For me, it's perfect for applying the powder highlight to the very tops of my cheek bones! I know people also like it to blend out concealer on larger areas. Lately I've tried it for what it was meant for, contouring, and it also does a brilliant at that!
BRONZER: Sigma F30
This brush has a slightly tappered shape (where the hairs on the top are longer than on the sides), which makes it perfect for a little bit of contouring, as the lower sides help to blend the product out! It's also an ideal size for applying bronzer all over the face for that golden glow!
What are your favourite brushes for different products? x