I got this product right before I decided I was gonna ombre my hair at home. I knew I would be doing some damage to my hair and was looking for ways to protect it as much as I could! And I wasn't let down by this blue guy, the Redken Extreme Anti-Snap.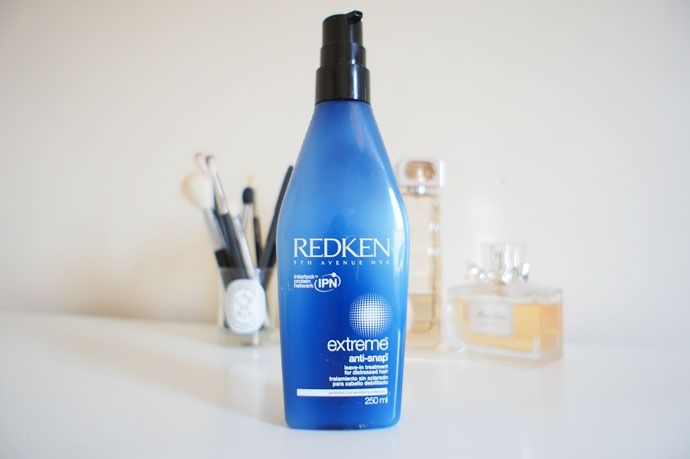 The most important thing to know if you wanna have healthy hair is: your hair needs MOISTURE & PROTEIN. Too little moisture or too much protein might be the reasons why your hair isn't looking it's best. Protein based products help make hair stronger against breakage and that is exactly where this product comes in. It promises to strengthen hair by coating it in lipids (proteins!) and smoothing down the hair cuticle, which makes it smoother and there for reflects more light for shinier hair!
This is also a heat protector, so I apply it to towel dried hair and blow dry it as usual. I love what this does to my hair. It is left feeling soft and the frizz is reduced compared to when I don't use it. I first started using it every time I washed my hair, but, like I mentioned, too much protein can make your hair look a bit dull and dry. Now I use it every other time I blow dry my hair.
You'll remember that I recently got my hair cut and complained about how dry my ends looked... They were looking pretty unsightly, however... There was absolutely no breakage and the split ends were pretty minimal if you consider I put bleach on my hair! The amount of heat I've been using on it since getting it cut is out of this world and it should be a total mess by now, but I believe the Redken Extreme Anti-Snap is holding it together! My hair is still looking healthy and there is no breakage as far as I can tell.
I'm very pleased with this product indeed. Plus, it smells lovely!
FeelUnique.com
stocks the whole Redken range.
The Redken Extreme Anti-Snap
is £14.75 for 250ml.