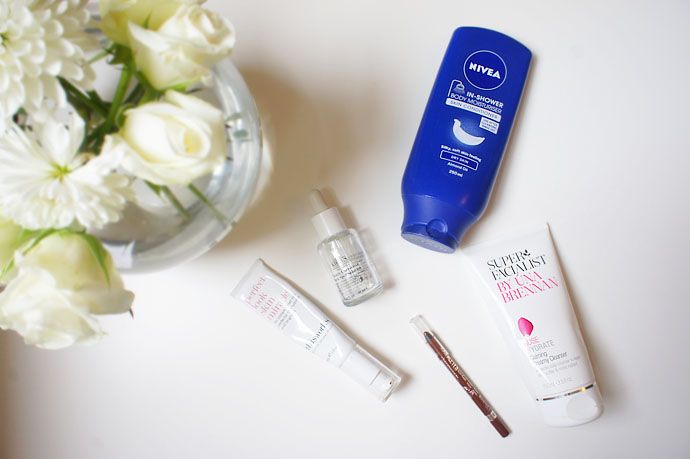 Nivea In Shower Body Moisturizer Skin Conditioner:
I really hope I'm not the only one here who doesn't bother with moisturizing everyday. This is literally like hair conditioner but for your body. It's the perfect solution, the lazy girls best friend: gimmicky as it may sound, it gets the job done while you're in the shower, couldn't be more convenient!
Kiehl's Clearly Corrective Dark Spot Solution:
A lovely light serum which promises to reveal brighter looking skin and help with over pigmentation. I've gotten back to using it this month after a bad outbreak and, while it does take its sweet time, it definitely works at fading acne scaring.
Superfacialist Rose Hydrate Calming Creamy Cleanser:
An mazing cleanser, this is my second bottle of this and I will keep repurchasing it. I re-discovered it this month and have been using it as my morning cleanser. You can't beat it for the price. Under a tenner for lovely, nourished, plumped skin? Count me in!
Plus, it's on offer right now for just over a fiver!
This Works Perfect Look Skin Miracle:
After having pushed it to the back of the drawer, I picked this up again to write up the review (which you can read right here) earlier in the month and fell back in love. It's got the perfect dewy finish for those good skin days. Not exactly a bargain, but I do quite like the effect!
Rimmel Scandaleyes Waterproof Kohl:
I think this might be my favourite eyeliner ever. I adore the bronzey colour and this bad boy stays PUT. It's the perfect shade to add a bit of definition around the eyes without using a hard black liner and it's such an amazing bagain at £3.99! Thumbs up!