When I spotted this on the shelves of Asda while doing my weekly shop, I immediately thought it might be a dupe for the Clarins Pure Melt Cleansing Gel. That, combined with having heard
Ruth Crilly
rave about the hot cloth cleanser from the same line, made me pick it up and see if the comparison was fair!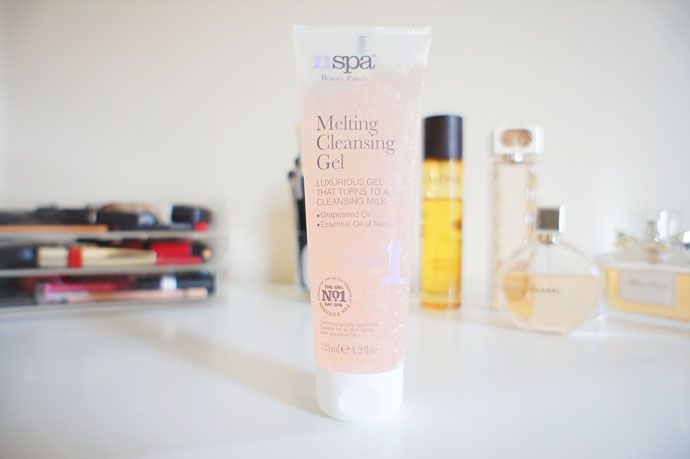 This comes in a uber cool looking purple box, which makes it feel a lot more expensive than the £6 it costs. They've really hit the nail in the head with the packaging, it looks like something I would expect from higher end brands. The bottle actually looks exactly like the Clarins one. The scent is also lovely. And that's as far as good things go with this product, I'm afraid.
While the scent is very nice, it is VERY strong and lingers on for a long time. I tried a bit on my hand before testing it properly and after washing it off the scent was still there after a couple of hours. I think that's an insane amount of fragrance in something that is meant to go on your face, so if you have sensitive skin, beware! Fragrance is one of the ingredients that are most likely to irritate your skin, and this bad boy is packed with it! Also, unlike the Clarins Pure Melt, the gel is really thick and doesn't go on smoothly at all. I tried it out at night before bed. When I rubbed it on my face, it felt like thick glue on and it dragged my skin to the point of discomfort. After emulsifying it with some water, it turned into a milk and it felt quite soothing. I rinsed it off with water and my skin felt quite soft. I felt a little bit of residue left behind, but nothing that a warm flanel or your toner wouldn't fix. And then next morning came...
I could see little white spots starting to form and little irritation bumps on my face, which I have NEVER had before. I obviously had the obligatory freaking out moment and started praying my Effaclar Duo would do it's job, which thankfully it did!
I would've titled this post "Don't Put This on Your Face", but I can't be sure if it's all the product's fault or if it just
didn't work for ME.
Maybe it's another case of "you get what you paid for".
I'm sure the hot cloth cleanser can't be all that bad if Ruth recommended it!
Have you ever tried anything from the Nspa range? What are your thoughts?