I've taken over out little dining table! This is where I blog from and I tried to make it nice and comfy, for inspiration! Plus, I find having a space to actually sit down and get down to business helps me not to get too distracted when I know I have to get something done! I find it specially helpful when answering blog comments, when I need all my focus or else it would never get done! I'm definitely one of those people who need to be sat, with their head down to be able to completely focus! My laptop is just an old Toshiba one and I'm definitely on the market for a new one. Ideally a MacBook Air, but not sure if I have the courage to fork out all that money just yet! Any recommendations would be welcomed!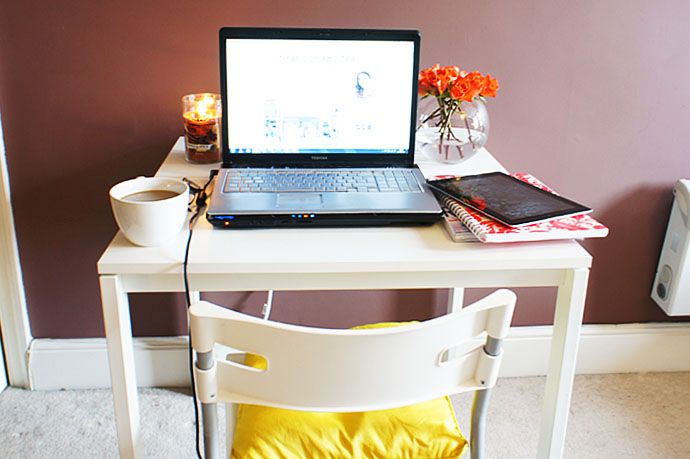 As you can see, my little blogging space is right off the living room and the kitchen is right behind me (we have an open plan layout). I've always wanted a little desk space/little home office, but always felt like I had to invest in big furniture or had to wait till we had a bigger place or any other lame excuse! This time, I just improvised with what I had and I think it turned out pretty nice! That just goes to show you don't need to spend mountains of money to have a space you can enjoy!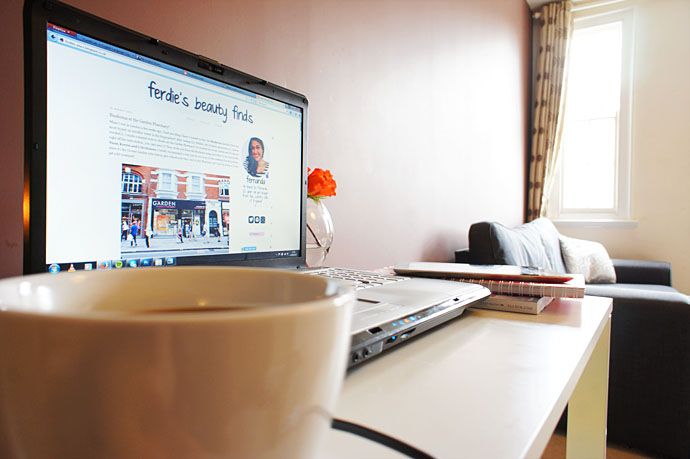 I love having flowers around, I think they really make a room! These are just £3 mini roses I got at Tesco and trimmed the leaves off for a cleaner look. And the vase is another bargain I picked up at Asda for £3! I also like to have my iPad around to keep an eye on Twitter (follow me, I'm always checking it!) and Instagram. And an essential for me is my notebook, this one is from the Martha Stewart collection for Staples. If I have an idea for a post I absolutely HAVE to write it down or else I will forget it, 99% of the time! haha I'm such Arnold lady, I swear to God!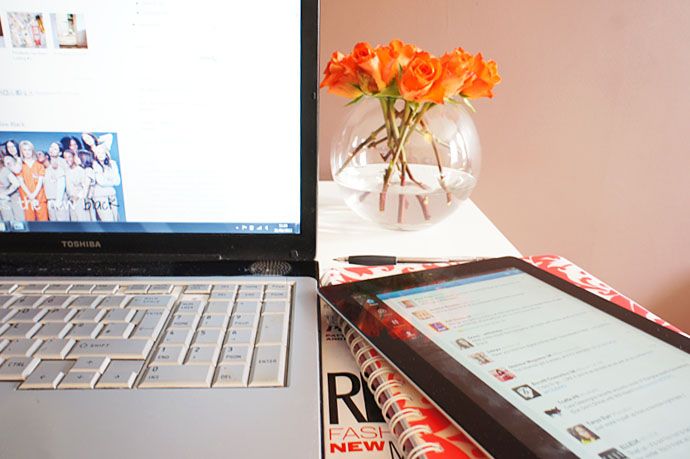 I really hope you guys enjoyed this post! And if you did,
stay tuned
cause I have a series coming up where
other bloggers share their blogging space with us!
How exciting is that? I can't wait to see everyone's spaces! Very nosey indeed!
x