I'd been keeping all of my make up in two little bags for months and really wanted something a bit more conveninet, where I had easy access to all of my items. So, when I was in London a few weeks ago and ran into a MUJI store, I knew what I had to do!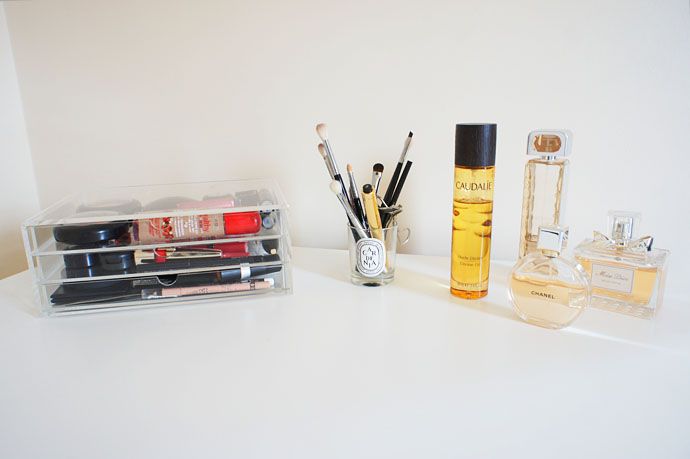 I love how they look on top of my dresser! They are ridiculously practical and it fits all of my make up with a little room to spare so I can keep growing my collection, how convenient! haha They are perfect for the clean, white, fresh look I'm going for with my home decor! This dresser is right next to my big mirror, so it's perfect for doing my make up (I like to do my make up standing up!).
The only draw back with these is how shallow the drawers are. As you can see, my Bourjois Healhty Mix Serum foundation bottle fit perfectly, but something with a thicker bottle like, say, the
Dior Diorskin Forever
foundation would not find a safe home in there! I'm very lucky everything I own fit so nicely and I love how tidy it looks! Now I'm looking for a nice antique tray to put my perfume bottles in,
something like this
. So chic!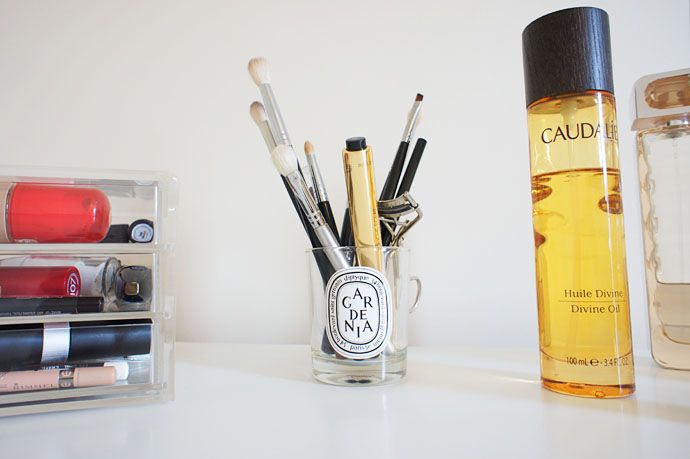 I keep my Touche Eclat and some of my pencils and smaller brushes in this Dyptique candle. I looked at so many tutorials on how to empty the old candle glasses out and they were so ridiculously complicated, I found a much better way to do it! I can work on a tutorial if anyone's interested!
You can find MUJI stores in London, I got my drawers at the Covent Garden one! There 3 drawer one cost me £17 and the 5 drawer one is about £25. They're also available from the
MUJI website
.