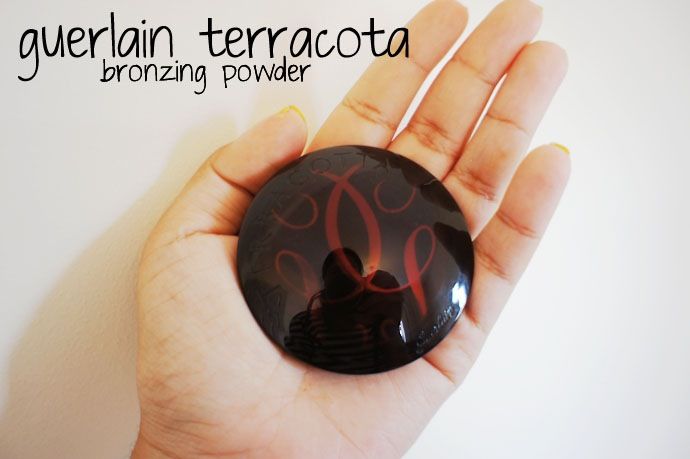 I think Guerlain is one of the prettiest make up brands out there. Together with YSL, it has the most amazing, luxurious packaging. The Terracota Bronzing Powder's compact is one of the most gorgeous things ever, but it's really hard to photograph! It's got the Guerlain's signature crossed G's in there, in an almost holographic looking golden tone. It's just gorgeous. Inside the double G's are repeated in the pretties embossing on the powder (sorry mine's a little worn, this post's been a long time coming!).
Bronzer is usually that final step in make up that can bring the whole look together. I always felt my make up was missing a little something and I knew what it was. But because I have darker skin it was really hard to find a bronzer that would show up on me. Queue Guerlain and their (then) newly released 8 shades of bronzer. Catering to the fairest skinned gals to the darkest!
I've got the one in #07. I love this shade, you can actually see it on my skin (unlike the Bourjois Chocolate bronzer) and it makes the perfect contouring product for me too, as it doesn't look orange at all. In this picture I applied it to the back of my cheeks and along my hair line. The powder is very finely milled, which makes it so easy to blend and it smells really nice too. It's supposed to be hydrating too. I don't know about that, but it doesn't dry out my skin or looks cakey either!
My favourite brush to apply it with is this F50 by Sigma. It came with their travel kit, so I don't think their full sized one will be the same size, probably bigger. I like it because it's got a slightly tapered head, so I can either focus the application with the very end of the brush for contouring or use the whole brush for an all over bronze.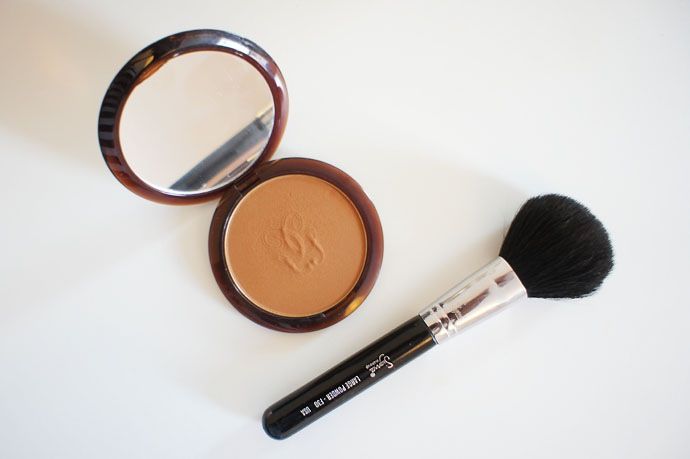 Now, this isn't the cheapest bronzer out there (I got mine for Christmas) at £33. I just decided I really wanted to invest on it because, like I mentioned before, it was the best one I found for my skin tone.
What are your thoughts on bronzer?
The
Guerlain Terracota Bronzing Powder
is available in 8 shades and you can find it at Guerlain counters nationwide or at
FeelUnique
.