"Hey everyone! My name is Marvelle and I run a little blog called Blog of Shadows! This is my first ever guest post, can you believe it! When Fernanda asked if I'd like to guest post about "My Blogging Space" - I thought that sounded like a pretty interesting concept, as I myself am a little nosy and would love to know where everyone blogs from, be it their beds or if they have a little allocated area! I am very lucky, I have an entire room in which I call "my make up office" (ha!). As my blog mainly deals with make up looks, this is where most of the magic happens!
I have a huge white desk that has 3 drawers one end and 3 shelves the other which I got from Argos (I think it was about £40-50). I keep nail polishes and general blogging bits, like my camera and cables in the drawers, and if you take a little look on the other end, you'll probably spy some slippers, cotton pads, Q-tips and make up bags down the other. I like to keep my desk pretty minimal, as it can get a bit crazy when I'm blogging, so I only have the essentials on it. One side I have my mirror and everyday make up stored in a pretty big Cath Kidston make up box along. On the other side I have general bits and bobs, I like to keep my Bioderma, Fix + and brush cleaner all within arms reach, guarded by my two little teddy bears! Alongside this I keep various journals and notebooks to help me keep organised. I have one special little notebook where I write down what I want to achieve everyday. It just helps me keep up with the blog and since I can be quite forgetful, I like to remember what photos I need to take or retake, what looks I have planned etc...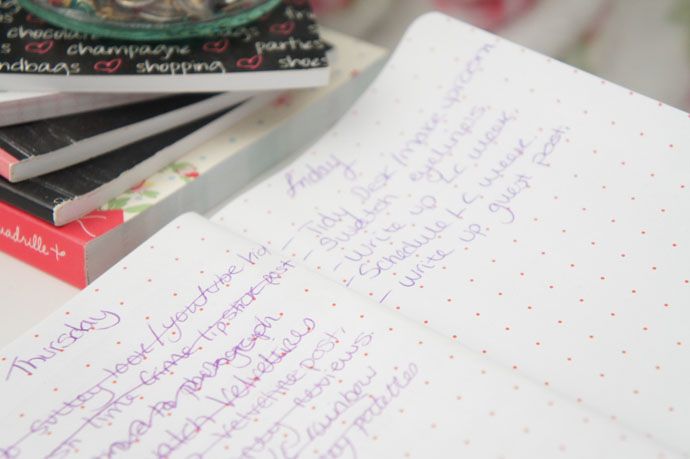 On the other side of the room, I have my make up collection stored in big towers (£2 from Asda!) all within arms reach. :)
Of course, like many bloggers though, despite having a lovely room to be able to blog from, it usually ends up happening here, in the comfort of my bed! This is where I like to write up my posts, you can't beat a bit of bed blogging!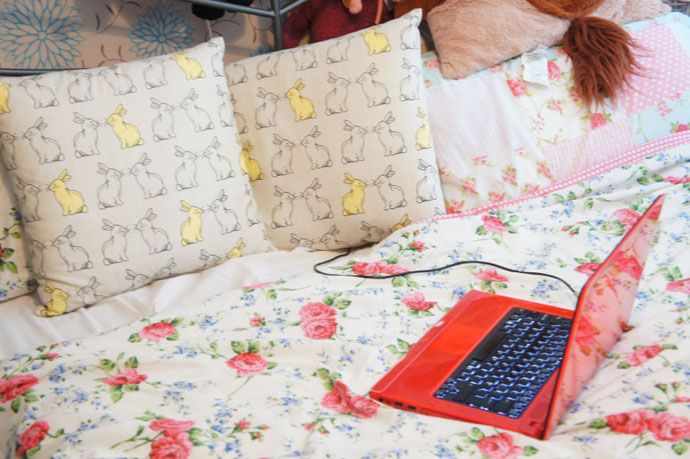 Thank you so much for reading and I can't wait to see where other bloggers blog from! It will be very interesting to see the set ups and you never know, I may learn a thing or two! I'm already thinking of investing in some flowers after seeing Fernanda's! Thank you so much to the lovely Fernanda for letting me guest post and if you'd like to check out the posts that come from my little blogging space, you can find me at BlogofShadows.com or over on twitter @blogofshadows! Bye everyone!"
Thank you Marvelle for sharing your space! I love the wallpaper on the window wall, it looks so fresh! And your bed looks so cosy, who can blame you from blogging from there? haha I love all the mixed bedding! And, can I just say, OMG all that make up! My little collection is dwarfed next to this! haha
I hope you enjoyed checking out Marvelle's space! If you would like to share yours, just tweet me or e-mail me at ferdiefletch@gmail.com