After MorrocanOil came into the scene, everyone went crazy for hair oils. Not only because all the celebrities were allegedly in love with it, but because it works! I used to use leave ins after washing my hair, but nothing ever worked as well at nourishing my hair as an oil. And obviously, the first one I ever tried was MorrocanOil. I loved it, but at £30 for the 100ml bottle, it was a very expensive habit to keep!
If I'm being honest here, I always thought of Macadamia Oil as the poor man's MorrocanOil. I had a friend rave to me about their hair mask and started seeing the range in a different light. And then I saw the Healing Oil discounted at TK Maxx at £14.99 down from £29.95 and I wasn't gonna say no to that!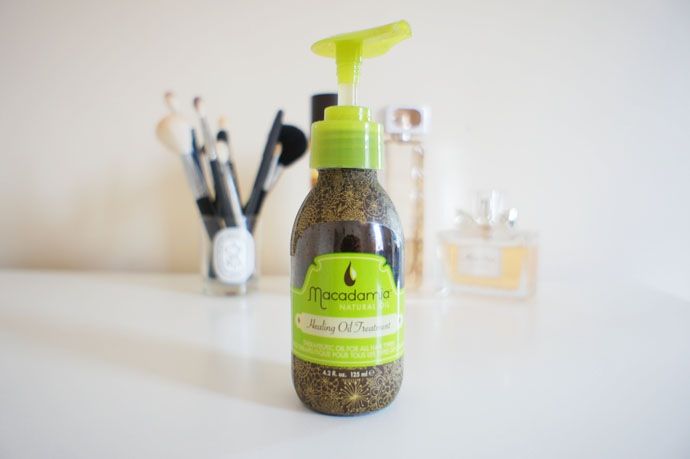 It contains both Macadamia and Argan oil. The Macadamia oil sounds especially good, as it mimics the oils our scalp naturally produces and protects the hair from the inside out. Argan oil is rich in Vitamin E, which is found in many cosmetics due to it's moisturizing properties! Finding both these amazing oils in one product is pretty handy, if you ask me! Macadamia Oil also claims to reduce hair drying time in over 40%, but I can't say for sure as I've only ever used it on dry hair.
The pump action dispenser is great for convenience, but on full pump dispenses way too much product. Luckily you can get half a pump out, so that's not a big issue. It smells very nice, a bit musky. It doesn't really linger on the hair for too long, so you're still good if you don't like the smell. Now, the part that really sells it for me is how soft and shiny it makes my hair... In a way my MorrocanOil never has! Yes, this definitely beats it! I'm so glad I decided to try this, as it is now my staple hair oil! What's yours?