These are my first ever Kerastase products. I've always wanted to try something from them but in Brazil their prices are prohibitively high. I feel like here in the UK, while it certainly isn't cheap, it's definitely affordable! I decided to go for the Cristallist range first mainly because I really like the packaging (being honest here! haha). The reviews I'd read were very mixed, but, like I said, I really wanted to try the brand out, so here we are!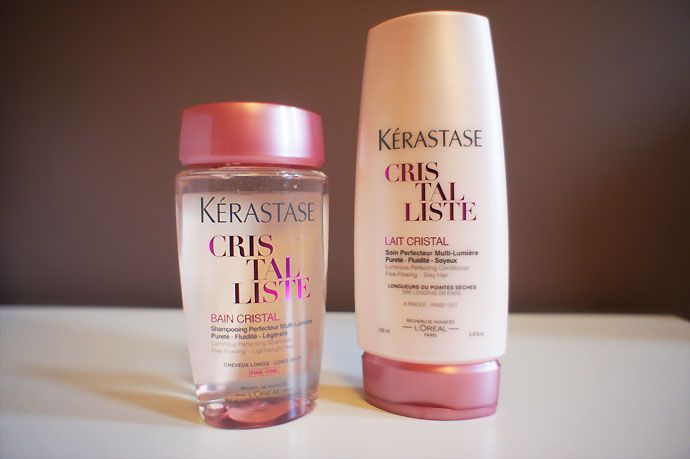 This line was developed for people with long hair and I got the fine hair version (there's also one for thick hair). The shampoo is clear, which I tend to associate with clarifying shampoos. It lathers up really well and does an amazing job at cleaning the hair, but in no way dries it out. My hair usually needs conditioner before it starts feeling nice and soft, so I was really surprised when I rinsed the shampoo out it it felt really smooth and soft! It smells just like the hair dressers, which I like. hehe This has probably become one of my favourite shampoos ever! The conditioner added a nice bit of moisture to my hair and detangled it really easily. It's a really nice addition to the shampoo, they work really well together! This duo made my hair so shiny, like I hadn't seen it in ages! It does contain some weird, unpronounceable chemicals and it's definitely not a natural choice at all, but by God, it makes your hair look good! If you're not fussed about these things, I recommend this duo. Kerastase is definitely worth the price tag, in my opinion!
I got these from
Feel Unique
, the shampoo is £12.65 and the conditioner goes for £14.08.