These are my first (and so far only) designer nail polishes. I thought it would be a good idea to compare them and let you guys know which one I think is worth investing in as I do have a definite favourite out of the two!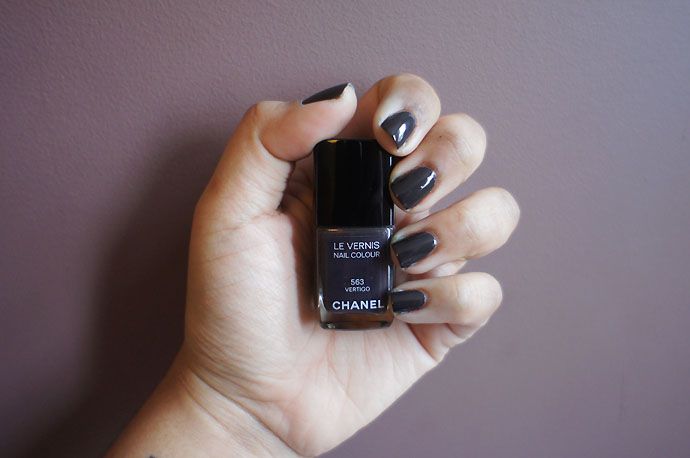 First up is Chanel's Vertigo. When I was browsing the Chanel polishes at the counter, this one stood right up to me. I absolutely loved the hint of purple it has on the bottle and I could see the very subtle sheen that is a trademark of the Chanel polishes. It is the prettiest mix of purply/pinky, almost invisible little glitters. When applying to the nails however, I was really disappointed to find it doesn't show up at all on the nails! There is no sheen to be seen, the color appears completely solid. I do like the formula, but I hate the brush. It is very thin and the end is flat, which leaves a strange mark at the base of the nail. It lasts pretty well on my nails, around 3 or 4 days without chipping, although I have read some unfavorable reviews saying it chips quite easily. Even though I don't like the brush, I would probably buy more of these. I can't afford a Chanel 2.55 but dammit, I will have some Chanel in my life!!! haha At £18 a pop, they're not cheap, but are affordable.
Then we have the nameless YSL #137. The packaging is absolutely gorgeous, it's definitely my favourite. It claims to be long lasting, but to be honest it lasts the same as the Chanel, so no complaints, but no praises either! I find the formula of this one easier to apply, I feel it glides on better on the nail. Also standing out here is the brilliant brush. It's got a slightly rounded end, which fits perfectly on the nail, making a cleaner application much easier to achieve! For this reason, the YSL is the winner for me. I bought it at the House of Fraser winter sale and snatched it for £13, when it's usually £17. I think it was a good bargain, and I would still pay full price for these and be just as happy, as the quality is excellent!
Now, of course you could get comparable quality nail polishes for a lot less, but let's be honest with ourselves. We all like the luxe factor! If you do not mind a bit of a fussy application, I would still recommend the Chanel. If you're NOT a manicure pro, like me, the YSL is the one to go for! They are both available at counters, nationwide.