My first ever scented candle was a brandless vanilla one. It came in a pretty glass jar and it was massive, but had only one wick, so you can guess what happened: I got to the bottom of the candle but the sides were annoyingly still full of wax! Now, a year on, I've decided to get better candles and pay more attention to these small details! The blogs I read have definitely influenced me to buy candles, so I've also read tonnes of reviews before investing in these!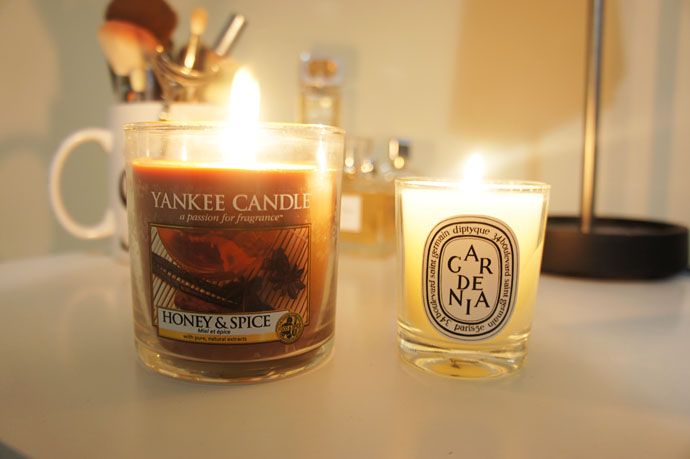 I got the Yankee candle during the House of Frasier 2 day event of discounts (or something like that!) so it only cost me around £7. Luckily, I actually prefer this packaging instead of the more expensive one with the glass top! The scent I got was "Honey & Spice" and I love it for this time of year. It smells very warm and cosy. I can't smell the honey if I'm honest! It smells sweet, but not sickening sweet. My husband also like it, which is always a positive because he usually doesn't care about these things! haha The only down side to this is that the scent isn't as strong as I would like it to be. While reading reviews on Yankee candles I noticed many people saying this is a recent change, that they used to be a lot more scented. Oh well!
This Diptyque candle I bought on the Selfridges website. Oh, the alluring Diptyque candles. Is there another brand that has prettier packaging than this?? haha I actually just wanted this to sit pretty on my bed side table! haha These are very expensive, this 70g one cost me £20, but I personally think they're worth it! Because I got it online a obviously couldn't choose it by the smell, so I got it in "Gardenia", which a friend recommended. It smells very nice and the scent is very strong! I think these are better quality than the Yankee ones, but I've been burning my "Honey & Spice" more just because the Diptyque smells so fresh and summery! I would recommend both candles nonetheless!