I've been really enjoying reading these posts in other blogs. I guess it's that nosey side in me that enjoys knowing details of people's lives! Is anybody else like that? I think that's one of the reasons why blogging has become so successful, it gives you that little glimpse into other people's lives and homes!
This is what my bedside table looks like when I'm taking pictures for the blog: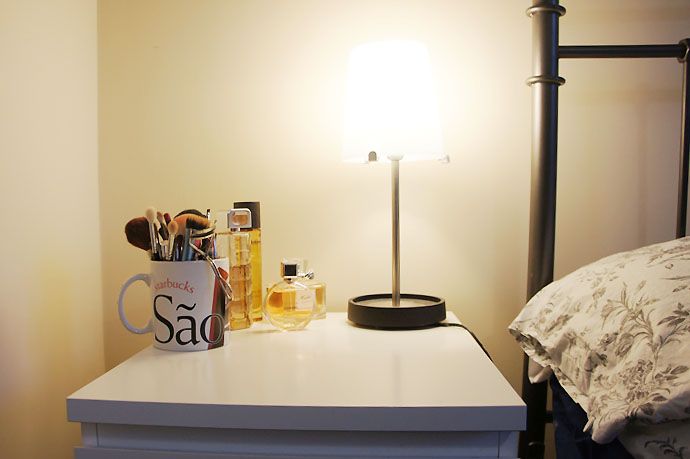 This is what my bedside table looks like in real life:
Because we're never quite sure when we are moving house, the husband and I are holding off on buying any bigger pieces of furniture. Right now, my good ol' trusty Malm bedside table from IKEA is also doubling as a vanity table! The table mirror on there and the lamp are also from IKEA. The mug where I keep my make up brushes and other things is from Starbucks São Paulo. I guess what I keep on there are the things I use the most. The Avene thermal water, the
Caudalie oil
and the
Clinique moisturizer
. I also recently bought that lip balm, it's by
L'Occitane
and it's packed full of Shea butter and other good stuff. It's doing a great job at keeping chapped lips at bay! A glass of water because I always get really thirsty at night (I think it's because of the heating), my crappy cellphone, ELLE magazine and my trusty iPad!
I hope you enjoyed this post. Leave the link to yours (if you have one) in the comments, I'd love to see them!