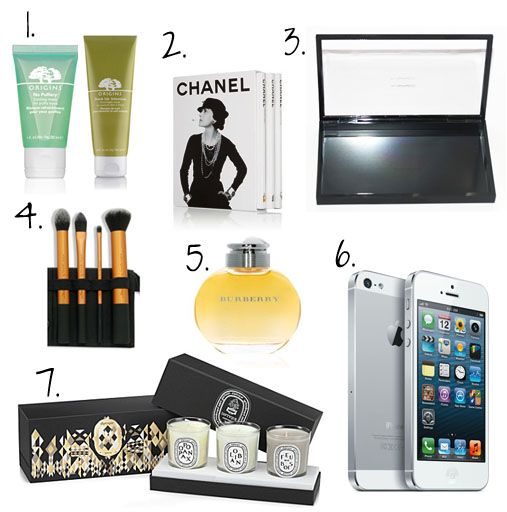 (First, let me apologize for the lack of posts these past few days, i felt my blogging mojo had gone for a walk but I'm definitely back now!)
One of the perks of having a blog is being able to make posts like these and drop the hints to your friends and family as to what you want for Christmas! haha Who a

grees??
1.
Origins Masks -
No Puffery
and
Drink Up Intensive
: I just feel like I need these masks in my life! For some reason I always get puffy eyes in the morning and the reviews on this sound amazing! Also, the over night mask is almost a cult product now, everybody raves about it!
2.
Chanel Books
: these look like the perfect coffee table books, they have such lovely photographs and who can't appreciate a bit of Chanel?
3.
MAC Pro 15 Shadow Palette
: I think the design of the new palette looks so much better than the old one. The clear lid makes it so much easier to find what you're looking for. After seeing this I decided to start a MAC eyeshadow collection (everybody needs a hobbie, right? haha). The first 3 I'm going for are Woodwinked, Corduroy and Brulee!
4.
Real Techniques Core Collection
: I essentially want this set because of the buffing brush! The fact that the whole set costs a few pounds more than a MAC 217 makes it such good value, in my opinion!
5.
Burberry Classic Eau de Parfum
: I adore this perfume! I got it for Christmas a few years ago and loved it straight away. It has a very sweet smell, but it's not overwhelming. And the staying power is ridiculously good!
6. iPhone 5: Well, do i really need to explain this one? haha
7.
Diptyque Holiday Candle Set
: As if the candles aren't gorgeous enough, just look at the packaging of this! This set contains their more wintery smelling candles and I can't wait to get my hands on these!!!
What's on your Christmas wish list? Leave the links to your posts in the comments! x