I've been nominated for the Liebster Blog Awards by the lovely
Jezz
! I'm so honoured, even when your blog is a small one, you always put effort into every single post you write and it's amazing to have someone recognise your work!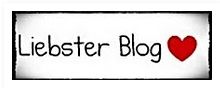 The Liebster Blog Awards is awarded to bloggers, by bloggers. It aims to spread the word about blogs with less than 200 followers ans I think it's an awesome way to get the word out and help smaller blogs to connect with as many people as possible. If you get nominated/tagged, you answer 11 questions, present 11 random facts about yourself and then come up with 11 questions for 11 bloggers you follow to answer! Here goes:
1. What is the most girly thing you have ever done? I started a beauty blog! haha
2. What shoe size are you wearing? Size 7
3. Red or nude lip? I love a natural looking lip, but I've only recently lost my fear of red lips! So I'll say it depends on the occasion!
4. Have you ever traveled outside your home country? If so, explain! I have only travelled outside of my home country once and then subsequently moved to that country (England!).
5. Wine or cocktail? I don't drink alcohol!
6. What is your favorite beauty item of all times? Mascara, definitely! There's nothing more feminine, delicate and sexy than long, fluttery lashes!
7. Dogs or cats? Cats. Because they're more independent.
8. Is blogging your main job? If no, care to share the real one? No, it is not! I'm waiting for my spousal visa to arrive, I can't work in the UK without it.
9. Skinny vs curvy, what do you prefer? Well, we all know usually "curvy" is an euphemism for fat. I prefer actual curves!
10. Any beauty secrets you would like to share but never blogged about so far? I blogged about it an hour before getting this an since I can't think of anything else, here goes: a spritz of thermal water before applying moisturizer locks in more moisture than just the moisturizer alone!
11. What would you love to receive for Chrismas? I'm thinking maybe a Clarisonic Mia!
Here are my 11 random facts:
1. I am 6'1" tall;
2. I was an English teacher in Brazil;
3. I met my husband on the internet;
4. I am addicted to Call of Duty (I have a lot of free time in my hands...);
5. My mother tongue is Portuguese, but I think in English;
6. I had my ears pierced when I was a baby (it's normal in Brazil!);
7. I have an Iron Maiden tattoo (don't judge! haha);
8. I'm from the north of Brazil, in the Amazon. Does that make me an Amazon woman?? haha;
9. I won a gymnastics competition when I was 10, but then I got too tall for it;
10. (My husband says) I cackle instead of laughing (lol);
11. Law & Order SVU is my favourite show on television.
Here are your questions:
1. Heels or flats?
2. Do you prefer investing in skin care or make up?
3. Ever did anything to your hair you regret?
4. Least favourite/favourite subject in school?
5. What is your dream job?
6. Why did you start your blog?
7. Who is your beauty/style icon?
8. Best gift you've ever received?
9. Your favourite drink?
10. What's your favourite sport (to practice or watch!)
11. Favourite perfume?
Like Jezz I don't want to tag just to tag so there will be less than 11, sorry! I tag
Signe
,
Kei
,
Aimee
!