I remember when I was 12, I watched a documentary about the history of Clinique and all the women who were being interviewed for it looked so elegant and sophisticated, well spoken and smart. I wanted to be like them! I'm sure I'm not quite there yet, but I have to admit, using Clinique products always makes me feel super posh (maybe that documentary has left a mark in my brain! haha)! I wore the Superbalanced foundation on my wedding day and it's still my favourite foundation. When I bought it, they had this offer where if you bought two Clinique products you'd get a (super cute) tin full of samples and one of those samples was the Superdefense moisturizer.
Clinique claims this moisturizer offers defense against the effects of sun, pollution, stress and time and also aids in the skins natural repair. It has got an SPF of 25, UVA and UVB protection, which makes it the perfect choice for an everyday moisturizer. Like all Clinique products, it's 100% fragrance free. I really like that, as I am very cautious of putting anything overly-scented on my face, always scared of bad reactions!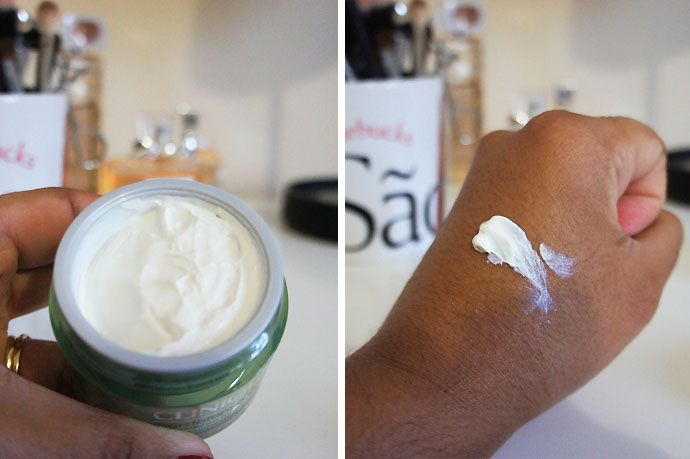 It comes in a pot, with no scooping spoon, which some people may be put off by, but I don't mind it since I always put this on after washing my face so I'm sure my hands are clean! I got this tip from a dermatologist in Brazil: you don't want to apply moisturizer on your face when it's completely dry. I always give my face a spritz of thermal water (Avene is my favourite) before applying any moisturizer. This one is quite thick in consistency, so it also helps it glide on better on my skin. I have applied it do a dry face and I feel a lot more moisturized if I use the thermal water! It says to avoid the eye area, but I don't. This has solved the problem I had with dry skin around my eyebrow (gross, I know!) and has never stung my eyes!
Now, because this is an anti ageing product and it said it's for dry to combination skin I almost gave it away, thinking it would be too rich for my face, but it definitely isn't! Like I said, it is quite thick, but it's not clogging at all, it leaves my skin feeling soft like no moisturizer's ever done before, it gives the exact amount of moisture. It leaves no residue sitting on top of my skin, doesn't make me shiny at all and, surprisingly, keeps the shine at bay for a long time! I found, with consistent use, it's evened out my skin tone as well!
I don't really like is expression, but here goes: holy grail moisturizer, for sure!
Clinique Superdefense SPF 25
moisturizer comes in a range of skin types (very dry to dry, dry to combination and combination to oily). It's £27 for 30ml and £37 for 50ml, from the Clinique website.