I posted a picture on Instagram a couple of days ago with the products I use before bed every night and I thought it would be a good idea to give you guys a loser look at my skin care regimen. Ever since I got really serious about looking after my skin and started using these products religiously, my skin has improved significantly, it's really impressive. I have repurchased all these products (except for the Liqueid Gold, this is my first bottle), so I think that's a testimony to their efficiency!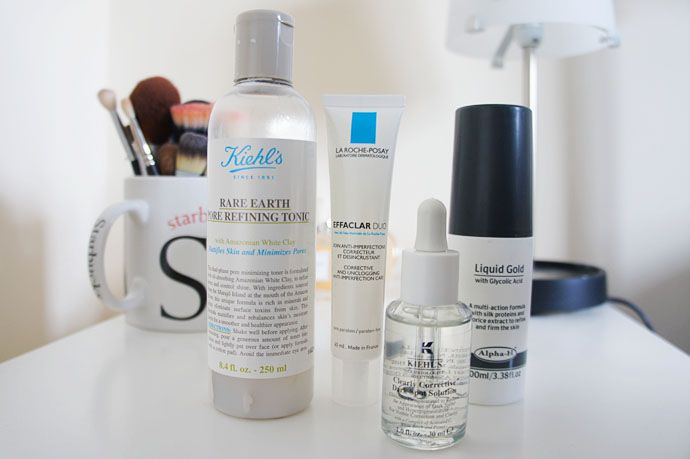 First is the
Kiehl's Rare Earth Pore Refining Tonic
. I don't even know if products can have such an effect on your skin, but I credit this toner to turning my oily skin into combination! I got my first bottle of this in 2010 and used it every single night till the bottle was empty and it is a miracle worker, I highly recommend this for people with oily skin. I'm on my
fourth bottle
of this and I really dont see myself going without it! Some people think toning is not important, I guess it depends on the toner you're using! Aside from all the benefits, I specially like using a toner as a last step on my cleansing routine, where I can make sure very last trace of make up and dirt is gone. Next up is the
La Roche-Posay Effaclar Duo
. Now this, I think, is the most I pressure of them all. If I go more than three days without this I am SURE to get a few spots on my face! It is a thick gel which works to unclog the pores and eliminate dead skin cells. It also contains anti bacterial ingredients, which is great for those of us who suffer with spots. I'm on my
second tube
of this and already have a back up so I don't have to be without it! The
Kiehl's Clearly Corrective Dark Spot Solution
is also on my routine, as the pigmentation my spots leave behind can last for months and this definitely helps clear them out a lot faster. You have to be diligent and extremely patient with this one, though, as the resuls don't come over night. I have been and I'm really happy with how it work! Lastly is
Alpha-H Liquid Gold
, which I've reviewed in depth
here
. My feelings for it haven't changed, I absolutely love this and have abandoned scrubs all together in favour of chemical exfoliants. It is a repurchase for sure. I've only been using the Liqueid Gold once or twice a week, and use the other products on the other nights!
Now, girls,
I need your help
. Most of you will know I have moved to England from Brazil in April and this is going to be my first English winter. Where I'm from, when it's 22 degrees out, people are breaking out their coats from the closet! I am TERRIFIED of this winter! I feel my skin drying out from the cold and from the heating, my hair is suffering as well and I have no idea what to do! haha I would really appreciate it if you could give me any tips or product recommendations for surviving the colder month.Thank you so much! x