I'd been looking for a new cleanser to try after I ran out of my
Clarins Pure Melt Cleansig Gel
(which I still love, but wanted to branch out!). The biggest requirement I had was that it needed to remove all of my make up, including stubborn waterproof mascara in one fuss-free step! After researching for weeks and reading what it felt like millions of reviews I finally settled on the Lancôme Galatéis Douceur Cleanser. I ordered it from FeelUnique.com and it arrived in 2 days (I love their free delivery!).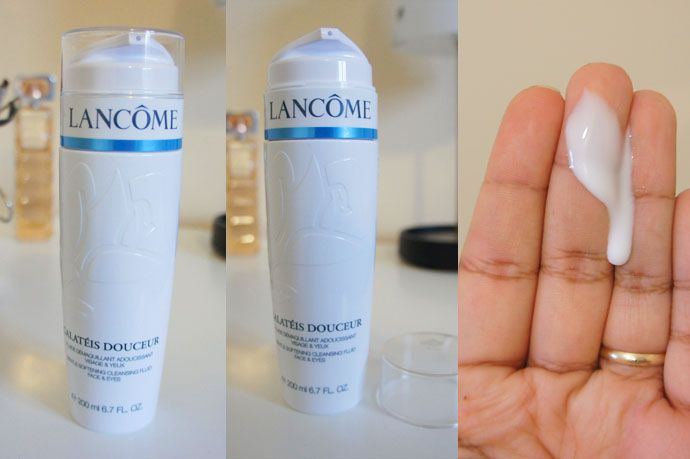 It comes in a plastic white bottle with the signature Lancôme rose stamped on it. It looks kind of old-ladyish to me! The packaging doesn't feel as sturdy as it should. The transparent bottle cap is the most annoying part of it. you have to actually try and focus on getting it to fit properly on the bottle because it may look like you got it right, but when you push it down to hear the click, it turn out it's not fitted properly, and because it is so flimsy, when you push it down, the pump gets pushed down as well and a little product comes out. The pump is very convenient, it dispenses the right amount of product.
It is a white, runny cream. Again, it smells a bit old-ladyish, but nothing overwhelming. I apply the product on my dry face and neck and massage it in for at least a minute. It feels silky and luxurious on the skin, like you would expect from a Lancôme product! I remove it with a muslin cloth and I feel my skin is left well cleansed but not stripped and it feels moisturised, but not oily. Also, it doesn't leave any residue, no film or anything.
If it's been a quiet day in, lounging around the house, I find two-three pumps do a fine job. However, and this is one of the downsides of this cleanser, if I have a full face of make up on, it take a lot more product to take it all of and I have to repeat the process more than once. Because of this, I think I'm yet to find ateh perfect make up removing cleanser!
All in all, I think this is a brilliant cleanser, specially for the winter months, since it feels so moisturising on the skin afterwards. I would repurchase it, but wouldn't expect it to be the one step make up removal cleanser I'd been looking for!
Lacome Galatéis Douceur
is £21 for 200ml from FeelUnique.com