If there is one area where I'm not afraid to invest, it's skin care! I suffered with acne throughout my teenage years, even being on medication for it a couple of times. It definitely affected my self confidence as a teen! I always thought spots would magically stop popping up as I got closer to adulthood but, alas, no such luck! It is not as bad as it was when I was younger, but if I'm not diligent with my routine, I'm sure to get (more than) a couple!
The first time I heard about Liquid Gold was through Ruth Crilly, on this video. In it she mentions the changes she'd made on her skin care routine and the fact she'd only gotten two spots in a couple of months! She credited that to the Liquid Gold and right there, I knew I had to give it a go! It
was the first chemical exfoliator I'd tried and now I can't imagine ever going back to mechanical ones (scrubs). I used to love the Body Shop's Microdermabrasion, but now I can't help but feel it's simply scratching my skin rather than doing anything, really!
It comes in a rather unappealing white bottle with a big black cap on it (which doesn't make any sense to me, it has another lid inside anyway??).
I thought it would have at least a yellow tint to it given the name, but in reality it is a clear liquid that looks a lot like water.
The only way to describe the smell is "chemically". Great help, huh? It is a little strong at first, but it doesn't linger on.
I did experience some tingly the first time I used it, but nothing painful or uncomfortable. I actually like it when products tingle 'cause it makes me feel like it's working!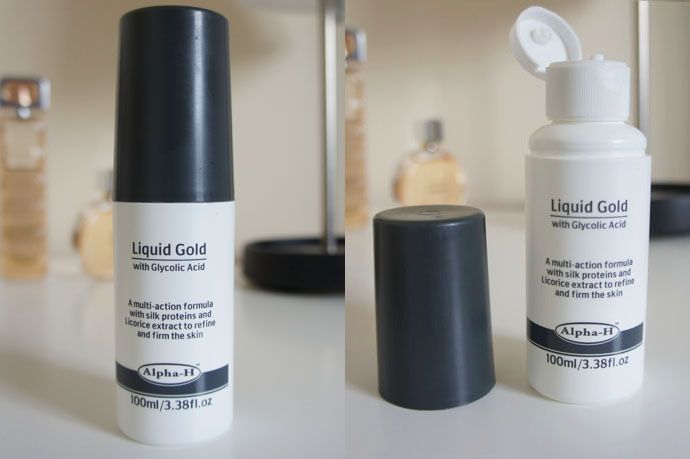 I use it on alternate nights, applying it with a cotton pad and don't follow with any moisturiser. That's how Alpha H recommends it to be used. I apply it to freshly cleansed face and to be honest it feels a bit drying when you first put it on, which might make you want to go on and slab some moisturiser on, but don't!!! When I wake up in the morning, my face feels plumped, moisturised, smooth, glowy... Can anyone think of any more adjectives?? It really is like a miracle in an ugly bottle!
I can immediately feel the difference in my skin if I don't use it for a couple of days. In an attempt to avoid over exfoliating my skin, I went 3 days without it because I wanted to use my Ren Glycolactic Acid mask (review of that coming soon!) and after those three days I could definitely feel that my skin wasn't as smooth and hydrated as it is when I use it! I now know I absolutely cannot go without it!
Alpha-H Liquid Gold is £31.50 for 100ml and you can get it from
BeautyBay.com
.